Introduction
Recently, I had the opportunity to take my family on a Royal Caribbean® cruise for our summer vacation. We had cruised in the past with Disney®, which led to an inevitable comparison of the quality of the two cruise lines. While on the Royal Caribbean cruise, I realized that the dichotomy between Disney and Royal Caribbean would make an interesting introduction for the sometimes dry subject of Kano's model. In this article, I will introduce Kano's model – without inducing drowsiness – and show how it helps us understand and set customer expectations, using examples from the cruise industry as illustrations.
Kano's Model
Kano's model is a tool commonly used to understand different types of quality and customer expectations. It can be applied to numerous industries, including product development, service, utilities, telecommunications, and transportation. For most of this article, I will focus on the cruise industry for my examples.
Kano clarified customer expectations by breaking them up into distinct types of quality. The more commonly used groups are Must-Be Quality, One-Dimensional Quality, Attractive Quality, Indifferent Quality, and Reverse Quality.
Must-Be Quality
Must-Be quality are those items that the customer expects to be present. If they are present, the customer is neither satisfied nor unsatisfied. However, if they are absent, the customer will be very unsatisfied. Some relatively simplistic examples of failure to meet Must-Be quality would be a cell phone without a charger, a hotel room without a bed, and a car without some form of an engine. While I was writing this article, Apple® provided yet another example. Under some conditions, the iPhone® 4 will drop calls when the user holds the phone in the wrong way. This episode was dubbed "Antenna gate" and generated quite a bit of press as it unfolded. Users expect to be able to hold their phones in any manner they want; by dropping calls, the iPhone® 4 fails to meet Must-Be quality.
In these examples, the customer's expectation came from the customer's experience. In the past, when I have checked into a hotel room, it has always included a bed. Thus, I expect a bed in the future. However, expectations are not always generated from our past experience.
Almost any interaction with a company can generate an expectation. A conversation with a customer service representative, the content of a website, and marketing materials can all generate expectations. For example, on the previously mentioned Royal Caribbean cruise, I was fortunate enough to have a cabin that qualified for Royal Caribbean's "Concierge Service". At first, Concierge Service elicits thoughts of an English butler in white gloves and tails attending to your every need. These thoughts were quickly replaced by reality thanks to a quick Google search. Royal Caribbean's website (update Feb 2011, new link) indicates that concierge service includes 24-hour access to the concierge lounge with complimentary hors d' oeuvres from 5:00pm to 8:30pm. Not exactly a butler, but not bad none-the-less. The key elements of the text of their website at the writing of this article (July 2010) are below…
As a Concierge Club guest, you will be offered amenities and services not available to other guests including:
A dedicated Concierge who is available to assist with anything you require
Twenty-four-hour a day use of the Concierge Club Lounge
Continental breakfast every morning and open bar & hors d'oeuvres every evening available in the Concierge Club Lounge
Based upon this information, I formed the expectation of using the concierge club for pre-dinner hors d'oeuvres, especially since I paid extra for the cabin that qualified for concierge service.
Upon arrival to my cabin, I found a letter from the concierge welcoming me to the Mariner of the Seas. However, at the bottom of the letter it stated "only guests of 18 years and above are permitted in the lounge between 5:00pm and 8:30pm. We respectfully request that guests use appropriate footwear and attire while in the lounge." Click here to see a scanned image of the letter. You can see from the letter that the rationale for the restriction is that alcoholic beverages would be served which would create an "adult oriented atmosphere". At this point, I feel that I must point out the sheer ridiculousness of this sentence. Let's take a closer look at the presence of alcoholic beverages on the ship.
For those of you who have been on a cruise, you realize that these boats are basically huge floating bars. There are multiple bars, practically on every deck. There are bars by the pool (several, in fact), bars in the casino, bars by the theater, and bars in the restaurants. One would find it next to impossible to move about the ship without passing through or by a bar. But wait, there's more. In the unlikely event that you are not within ordering distance of a bar, the ship has a small army of servers that scour the ship like thousands of ants, ready to take your order at the mere hint of impending thirst. If that wasn't enough, each day brings the "drink of the day" which is printed in the ship's daily schedule (delivered to your state room at night) and is announced by the cruise director on the public address system. The demand for these drinks must be exceptional, as they set up small booths in high traffic areas and bottlenecks so you can purchase your Sunstroke or Pina Colada (complete with souvenir glass) whilst traversing the great distances during between-meal bar migrations.
To my knowledge, no other bar on the ship prohibited children during the serving of alcoholic beverages. During the course of the cruise, we were in bars for trivia contests and scavenger hunts, and the bars were packed with kids of all ages. Amazingly, while children are not allowed to gamble, they are allowed in the casino. Kids are permitted to watch inebriated adults gamble their college funds away, but they can't enter the concierge lounge. What kind of debauchery could possibly go on in the Concierge Lounge between 5:00pm and 8:30pm? When I was in the lounge, I noted that the inhabitants were in the wrong age demographic to muster sufficient energy for any kind debauchery, as Merriam Webster or any other human would define it. They were discussing the shuffle board and bingo schedules, and one was actually asleep in his chair. (However, I did note that a couple of shuffle boarders were wearing socks with their sandals, which I thought was a clear violation of the "appropriate footwear" requirement.) I think we can rest assured that the motivation for the Royal Caribbean Anti-Child policy has nothing to do with the "adult oriented atmosphere", and their true motivation remains a mystery.
Since I was traveling with my two children, I found the anti-kid policy concerning. However, after a short discussion, my wife and I decided to go to the lounge and bring some hors d'oeuvres back to our kids. The trip took less than 5 minutes and we returned with some very nice chocolate covered strawberries.
The next day we received a call from a Royal Caribbean front desk staff member named Carlos. He indicated that he knew that we had removed food from the lounge and that we "would not be permitted to do so again". Seriously, those were his exact words. We explained that the Royal Caribbean policy prohibited children and this was the only way for them to obtain food. I will never forget his reply. He said, "If your kids eat the food from the lounge, then it will not be there for the other guests." This anti-kid policy is reminiscent of Mr. Bumble and his reply to Oliver Twist's plea for more.
During the remainder of the cruise we had several conversations about the rationale for this policy. Our first assumption was that the motivation was financial; if they prohibit kids in the lounge, it will cost less. We discarded this theory as the kids are going to eat somewhere on the boat and the cost differential would be minor. In the end, we could find no reason. My son decided that Royal Caribbean just didn't like kids. Regardless of their motivation, the rules of Royal Caribbean made the concierge lounge useless to us. Since their website didn't mention that children were not welcome and that food could not be removed, they failed to meet the Must-Be quality that they established based upon their website. I should point out that the crew on the ship must know that this is an issue. The only part of the letter from the Concierge that was bold was the comment about the kids not being welcome. If this is their policy fleet wide, they should put a similar notice on their website so that customers are informed prior to making a purchase.
Our experience on Disney Cruise Lines was very different. Disney's ships have an "upscale" restaurant called Palo. Our group of travelers made plans for a night at Palo during our cruise. When we visited Disney's website, it clearly indicated that you must be 18 years or older to enter. Remarkably, Disney goes out of their way to establish that Palo is for adults only. Below is a screen shot of Disney's page that describes Palo. There are no fewer than eight references to the fact that it is Adult Exclusive or Adult Only.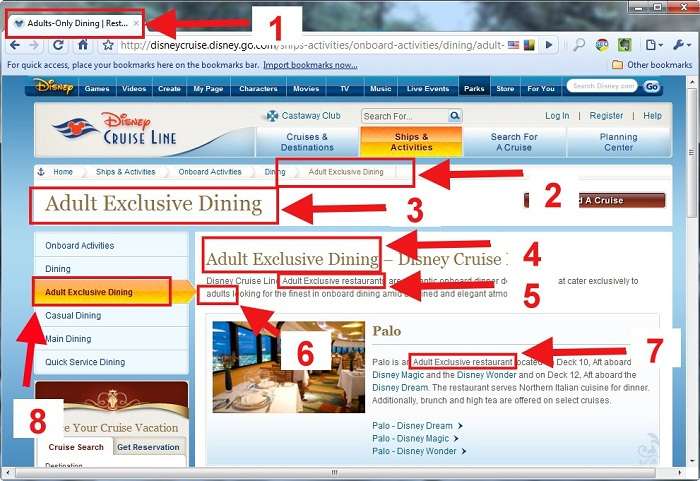 While we would have preferred to have taken our children to Palo, the expectation was correctly established allowing us to make other plans. Where Royal Caribbean failed to meet expectations, Disney excelled. As it turns out, this would not be the first time.
Kano's model is often expressed graphically. The graph below shows the two extremes of this example. The red dot represents the Royal Caribbean experience, while the blue dot represents the Disney experience. Royal Caribbean failed to fulfill a Must-Be expectation; therefore, we were unsatisfied. Disney, in contrast, met the expectation set by their website, which did not result in us being satisfied or unsatisfied, we were merely neutral. When a company fulfills Must-Be quality, the customer is not delighted. The customer expects the results, and so when it is fulfilled they are neutral. However, failing to meet Must-Be quality results in an extremely unsatisfied customer; just ask my kids about Royal Caribbean.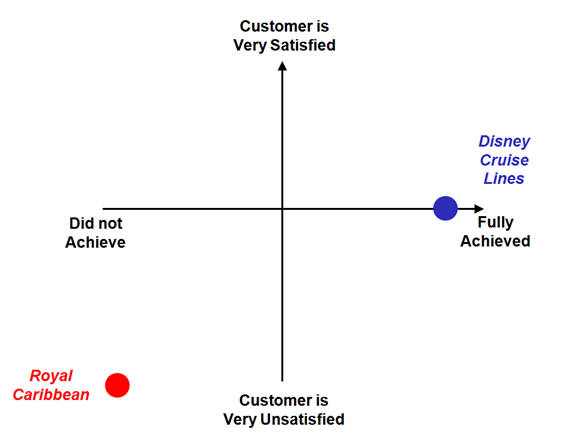 Must-Be quality is typically represented using the arrow in the chart below. If you fully achieve customers' Must-Be expectations, the result is that they are neutral. The customer is getting what they expected. However, if you fail, as Royal Caribbean did, then the result is an unsatisfied customer.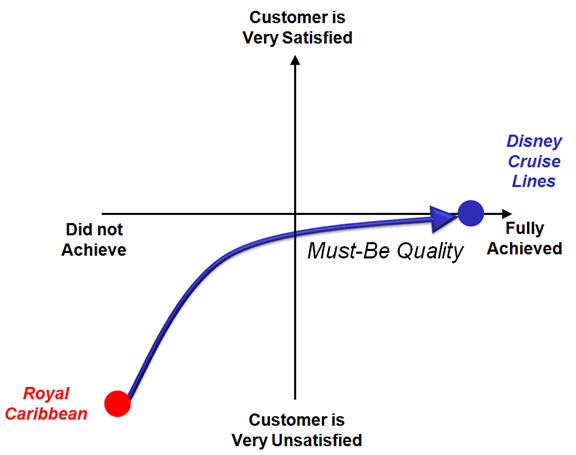 One-Dimensional Quality
One-Dimensional quality reflects items that the customer would specifically think to ask for. For example, if you request a non-smoking cabin and you get one, then you are happy. If you don't, then you are not happy. Other simple examples would include a cabin with a balcony vs. an inside stateroom, and receiving the meal you ordered at dinner. One-Dimensional quality differs from Must-Be in that the customer doesn't carry this expectation unless they make the request. In the service industry, One-Dimensional quality often manifests itself as options, such as Smoking vs. Non-Smoking, and may incur an additional charge.
An example from our Royal Caribbean cruise would be the request we made for a roll-away bed. When booking, we issued a request for an additional roll-away bed to accommodate our children. Upon arrival to our cabin, the roll-away was not present. (To be fair, we made a second request and the roll-away was delivered.) Another example would be our request to remove food from the concierge lounge. The request was very simple, it was easily within the control of the Royal Caribbean staff, and it was of negligible financial impact to Royal Caribbean. On this account, Royal Caribbean failed again to deliver One-Dimensional quality.
On the Disney cruise, I can't remember a single failure to deliver One-Dimensional quality. Much to my kids chagrin, we requested additional vegetables at dinner… they delivered. We ordered bottled water delivered to our stateroom… done. Ultimately, this is the goal. If the customer makes a reasonable request, our goal is to deliver it to the customer.
In the graph below, the red dot represents Royal Caribbean and the blue dot represents Disney. Royal Caribbean failed when we made a request; as a result, we were unsatisfied. Disney delivered on the request and thus we were satisfied. The blue arrow is the typical representation of One-Dimensional quality. One-Dimensional quality is very dependent on magnitude. The more a company achieves One-Dimensional quality, the happier the customer is. Conversely, the more a company fails to meet One-Dimensional quality, the more unsatisfied the customer is.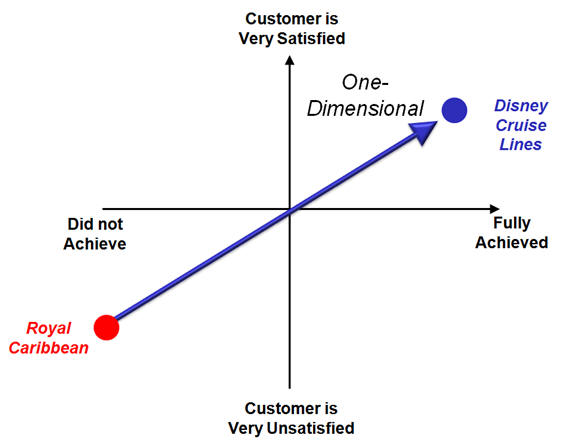 Attractive Quality
Attractive quality represents items that surprise and delight the customer. Usually, the customer would not think to ask for these items. However, when they occur, they delight and please the customer. For example, on the Disney cruise, our first night at dinner was in one of the main dining rooms, Triton's. We were just getting seated when the wait staff arrived with the menus – and greeted every one of us by name. They had memorized the names of everyone in our party, including the children. Since there were three different families at the table, all with children, I am not completely sure how they managed this feat. Nonetheless, it was quite impressive.
The Disney cruise had multiple examples of Attractive quality. During dinner at the Animator's Palate, the room changed color as the night progressed. My 8-year-old son was the first to notice that when the color change occurred, the wait staff appeared with new matching multi-colored vests. At night, the housekeeping staff would make towel animals and leave them on our bed for the kids. If you have never been on a cruise, you can't imagine the types of animals they can form by bending, twisting, and otherwise convoluting a perfectly normal towel. I have seen swans, elephants, and rabbits, all created exclusively from a single white cotton towel. The pièce de résistance was a small mammal that my daughter declared a "capuchin monkey". I must admit that my primate visual identification skills are not what they used to be, but alas, Google confirmed my daughter's analysis. By the end of the Disney cruise, the kids were eagerly anticipating the next animal.
From our Royal Caribbean cruise, we did not experience any examples of Attractive quality. The housekeeping staff did leave towel animals on the bed, but they were, in my kids' lingo, so lame that they only disappointed. My kids hypothesized that on the last night of the cruise they would leave their best animal. Below is a picture of our final "towel animal". It is a towel folded to appear as a …… shirt. I tried calling it a "capuchin shirt" but that did little to soften the blow. Needless to say, the kids were not impressed and left disappointed. When my kids show their friends this particular picture, they use air quotes as they refer to it as a "towel animal".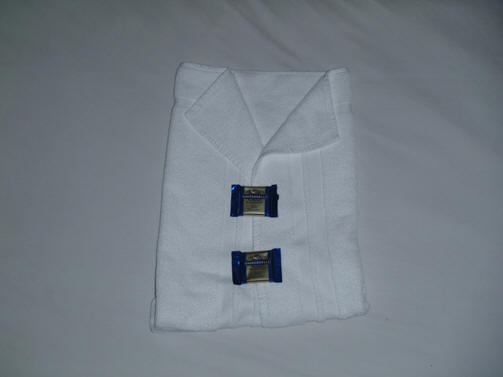 In the graph below, the red dot represents Royal Caribbean and the blue dot represents Disney. On multiple occasions, Disney delivered positive experiences that we did not expect; as a result, we were delighted. Royal Caribbean failed to deliver any experiences that would qualify as Attractive Quality. Since we didn't expect these items, we were neither satisfied nor unsatisfied; we were neutral.
The blue arrow is the typical model for Attractive quality. The more you achieve items that are unexpected, the more delighted the customer becomes. If you fail to deliver Attractive quality, the customer is left neither happy nor unhappy as they had no expectation to begin with.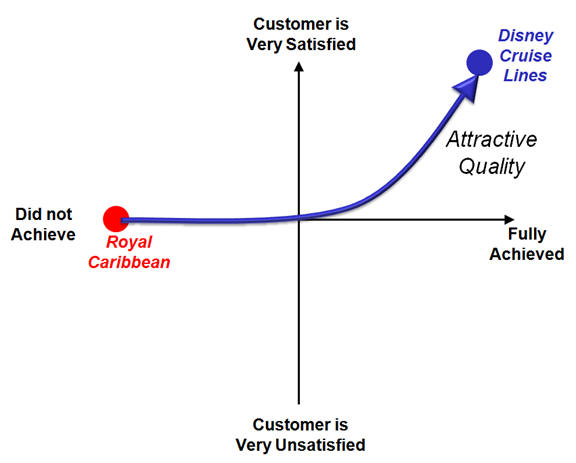 Kano's Model Review
Kano's model helps us understand the result of achieving or failing to achieve the customer's expectations. Quality is divided into three distinct groups, Must-Be, One-Dimensional, and Attractive. While there is some debate, the most important quality type is typically considered to be Must-Be. Why? If a company cannot fulfill what we expect, then we lose trust in that company. For example, Royal Caribbean's child-unfriendly policies made the concierge lounge unusable, yet their website mentioned none of the restrictions. As a result, I am personally going to be skeptical about any of their future marketing material. Ergo, I am more likely to stay in a Disney room in the bowels of the ship next to the engine than in the finest room Royal Caribbean has to offer. This lack of trust will likely prevent me from ever sailing on Royal Caribbean again. When a company fails to deliver on Must-Be quality, they lose our trust and with that typically our business. Shoot for Attractive quality, strive to meet all One-Dimensional, but whatever you do, never fail to deliver Must-Be quality.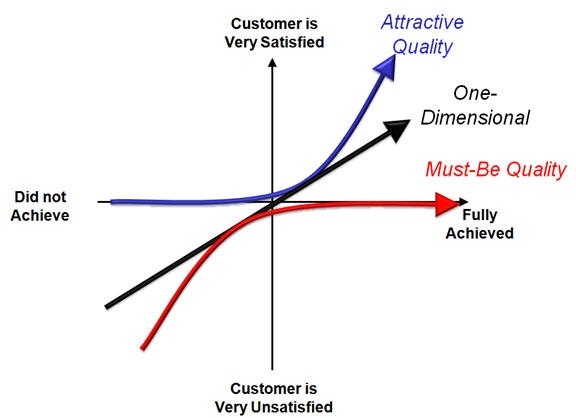 Disclosure and Disclaimer
I am not affiliated with either the Disney Corporation or Royal Caribbean in any way. These results are based on a small sample size (n=1) and are representative of the experiences my family had on these specific cruises. Your experiences are likely to differ from mine. Please note that I did not write this article with the intent to encourage the use of Disney cruise lines or discourage the use of Royal Caribbean. The intent was to use the obvious differences between the two companies to demonstrate Kano's model.